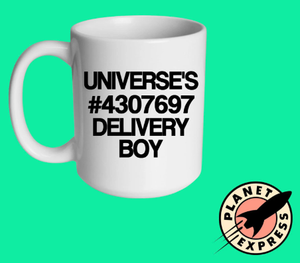 Vinyl Cut Pros
Universe's #4307697 Delivery Boy Futurama Mug
Regular price
$14.99
$0.00
Unit price
per
Futurama's Philip J. Fry works his hardest to be among the greatest delivery boys that ever traversed the universe, as shown by his mug that proves just how successful he is. And hey, in an infinite and ever expanding universe, ranking in the top 4.4 million is definitely worth noting. You too can share in Fry's success with your own "Universe's #4307697 Delivery Boy Mug," and let every sip of java be as smooth as a Charleston Chew.

Mugs are 11oz capacity made of white ceramic and images are sublimated on, making them dishwasher and microwave safe.
---
This product is available.